---
beaded strawberry purse
`
Artist statement
This is the first of the sacred food series. There is a wonderful traditional Tsalagi story about the origin of these berries. The Thunder Boys created them to lure a wife back to her husband, but she had to eat the correct one for the lure to work. I love the idea of these berries being an edible mash note from the abandoned husband to his exasperated wife. I'm such a strawberry junkie it probably would have worked on me.
---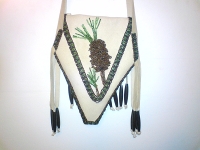 Pine Bag
Artist's statement
This bag was made as a donation for Viva UK. It is entirely vegan: psuede, polyfiliment nylon... even the hair pipes are wood, not bone or horn. This piece is a puzzle pouch, it has a "hidden" compartment. The image on the bag, a bit of pine, comes from the old Tsalagi story of how medicine came to be. All of the people got together (the animals, birds, insects and plants) to discuss the various transgressions of the human people. Various beings proposed illnesses to punish humans. The pine tree and the sunflower spoke for the humans, saying that they could be taught and that therefore there should be cures for the illnesses that all of the other people were proposing.
Viva UK does many things, one of which is educating people about battery farming. No part of my contract with the world around me includes food via torture. Be aware of what you eat.
---
Alligator bag
Artist's Statement
There are both benefits and drawbacks to being the relative of the artist. Because I'm going to have to keep looking at the work it's usually more neurotic than otherwise. Because it's more involved... it takes longer. This piece is for my oldest. He used to work at the California Academy of Sciences and developed a relationship with a gator called Boot. I've lost it among other work... twice. I've thought I was finished with it... four times. It's looking done these days but, as always, it's difficult to tell.
---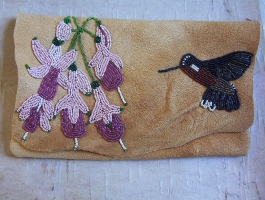 Hummingbird Bag
Artist's Statement
I don't actually know why I started this piece. I finished it as a gift for the 1000 Hummingbirds organization. Look them up, they are inspirational and I'm happy to contribute to them.
---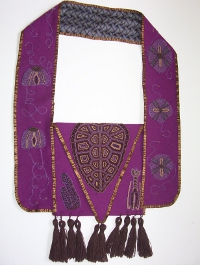 Beader's First Bandolier Bag
Artist's Statement
Well... there are a few folk who follow my work who will be waiting for a rant about those who believe that we should only ever copy work that has already been done. I'm not that kind of bead artist (the advanced art degree may have been an early clue). This bag is in honor of those beings that have been impacted by the BP Oil Spill (Hunh? Oh right! That's over isn't it?). So there are a shrimp, a sponge, the shell of a sea turtle and an array of jelly fish on this bag. Clearly these are not the only beasts impacted by the spill. They are part of a distinct food chain and that's why I've used them.
Making bandoliers... first impressions: not excited about edging things in ribbon, not delerious about beading onto wool cloth, generally cranky about the way the bag and bandolier are historically attached... and I've got ideas for about three more of the things. Clearly I need to be prevented from continuing down this slope. Grin.
The bag itself is going to be given to the winner of a contest at the Tulsa Two-Spirit Gathering this year.
---
Badger Bag
Artists Statement
This is a piece made for the Wildwood Trust in Kent where they are, among other things, breeding voles and taking care of woodland buffalo and some amazing early versions of horses. Great folk. If you are in Kent go visit their park near Herne. If you are not in Kent go see the website.
The living gentleman in black and white is my muse for this piece. His name is Medium Boar and he is a delight who is surrounded by both fur and skin people he respects and who respect him. I enjoyed my visit very much.
---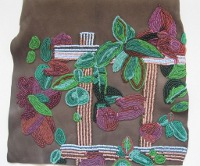 Trellis and Flowers
Artists Statement
A commissioned piece that was somehow overwhelmingly difficult for me to release. I didn't want to own it, I didn't want to continue to work on it, but somehow making it go away was just beyond me for a time.
Anyhow, it was worked from a photo and I really enjoyed creating texture by putting beads closer together than I would generally do. The substrate is a very soft commercial deer hide so beading close caused some very floral puckering.
---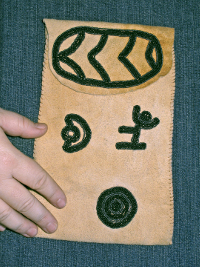 Petroglyth Bag
Artists Statement
Glyphs from near the 'Donner Pass', Washo territory. This was commissioned for a Washo leader. Bit of an exercise in texture that can't really be appreciated in a photo.
---
Beaded Folk Bag
Artist's statement
Here is another bag in progress... when I finished the fish I thought 'eek, set the bar a bit high'. This is particularly true as mammals are far more difficult to make compellingly graphic than birds or fish. Fur is a pain. Not that I love pine martens any less...
I start thinking of these things in association with the music/movie/conversation I was having when I beaded them. The fish was mostly beaded while listening to an Attenborough animal documentary. The crane was fueled by Cream and Dire Straits played at (probably excessive) volume, the marten was done while listening to a version of a Sherlock Holmes puzzle. Can you see five different white/grey-white shades in that marten...?
---
Copyright © 2015 · All Rights Reserved · kimshuck.com