Wearable
---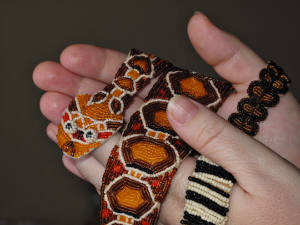 Snake hatband
Artist statement
For years I've intended to forge a snake... and then I wanted the colors a bit brighter and toyed with maybe pink or baby blue. We'll call this a dream rattler, not quite a portrait but a riff eh? This was another piece for Michael Horse... he seemed pleased.
---
beaded vest
Artist statement
I was asked to create this to replace another piece in an ongoing show on Race (see the exhibits page for information on the itinerary for this show). The show was put together by the Science Museum of Minnesota in St. Paul. I enjoyed working with the curatorial staff on this piece, although I told them from the outset that I might not be the best person to bead something patriotic. Nevertheless, I found a place in myself to work from, mostly centered in the military service of my family, really since there has been a United States. The words on the back are a reworking of a traditional Tsalagi prayer for success in battle. I would like to say here that if any of you get a chance to explore the museum you should. It's wonderful and there are some world class folk working there.
---
beaded vest number 2
Artist's statement
This is another commission piece for the Science Museum of Minnesota. There is a second RACE show being created to start touring in January. The spider is a riff on old water spider images. The stars are, once again, not entirely symmetrical. For years of my life as a beader I have avoided doing red-white-blue work. Interesting that in the last three big pieces I've done, that was the mandated color scheme. I'm sure that some traditional philosophy has something to say about that.
---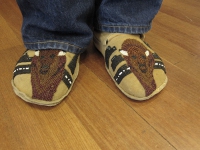 Buffalo Shoes
Artist's statement
These were made for my brother/friend. They are a map, a prayer, a celebration of his name. Here he is wearing them for a performance.
---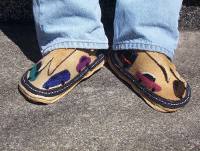 Dance Shoes
Artist's statement
These I made for myself. City Skin that I am, they seem appropriate and support my sarcastic sense of humor.
---
Gator kicks
Artist's statement
South Eastern puckertoe dance shoes. They have a few different allusions to alligators because they were for my son.
---
Tiny Boots
Artist's Statement
I do so much 'serious' beadwork that it was a pleasure to just engage in a bit of whimsey. My friend Michael is putting together a mini museum and this is my contribution. The boots are about 1-1/4 " tall, about half an inch across the widest part of the sole. My urge towards play suggests that I make a series of these in the style of various groups across the continent, demands on my time say something else... but they are kinda cool eh?
---
Coat for Michael Horse
Artist's statement
This is a slightly uncharacteristic piece for me. Usually even if someone wants a specific image they just tell me and I design and bead it. In June 2010 Michael Horse, painter, actor, musician etc, was my partner in a residency at the de Young museum in San Francisco. He wanted this. He gave me a drawing... told me where the horses were to go and what colors... In most ways this is his work... aside from the hours of actually making the piece, that is. Looks pretty good I think. Not sure I would work with anyone else this way but... he's one of a kind.
For more information about Michael's work plug his name into youtube.com and hear him talk about it himself.
---
Copyright © 2015 · All Rights Reserved · kimshuck.com